Ritorno da escursione in bici

For the more sportive it is also possible to use quad-atv. You would be able to use them on trails, on the farm land, or in guided excursions on the roads or mule tracks when they have been hired.
In the vicinity of the farm there are other activities available: Tennis courts, horse riding, and swimming. Flights can also be organised over the Abruzzo National Park.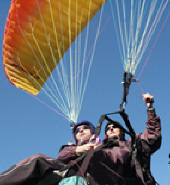 Activities in the region are very varied, the following explains some of the activities you can be involved with in the region.
For visitors who want to relax they can fish in the farmís lake or in local lakes of the region. In the summer it is possible to collect wild mulberries from the local bushes near the farm.
For those who want to be closer to nature and be involved in the work that is undertaken by the farmer/proprietor you can accompany him and work in the fields as a pruner, work with a tractor, breaking down the edges of the plots of land, asssit with weed maintenance of the meadow or just simply help look after the animals
To keep yourself fit there are mountain bikes available from the farm, to go for on or off road rides. A short distance away, is the Park of Gran Sassso , where there are official riding routes of Monte Picca, Cannatina and Voltigno.