Nature
Castles
Capestrano
L'Aquila
S.Stefano di Sess.
Celano
Craftsmanship
Ceramics
Confectionery
Goldsmith Art
Wrought Iron
Wicher

Medieval Villages
Corvara
Roccacaramanico
Penne
S.Stefano di Sess.
Calascio
Capestrano

The Abruzzo is a region rich in history and tradition, and this can be seen throughout the whole region.
The present of such historic sights such as Corfinium & Alba Fucens are a testimony of the importance of this region in its time.
Gregge ai piedi della Maiella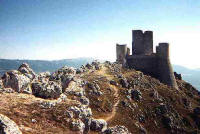 La Rocca di Calascio
A territory of Meetings(and collisions) between different cultures from East and West, with diverse ethnic groups and cultures between them. A unique region, as a result of the greatest of civilisations having passed through this area.
Ripalta with its pastoral route (Tratturo Magno Aq- Fg), humble people who live in the open together with their herds.
The elders recounting the shelters that they used when the weather was bad, on occasions repaying the owners with wool or cheese for their stay. These types of habits have perpetuated through centuries and have contributed to and augmented the sense of hospitality in this region.